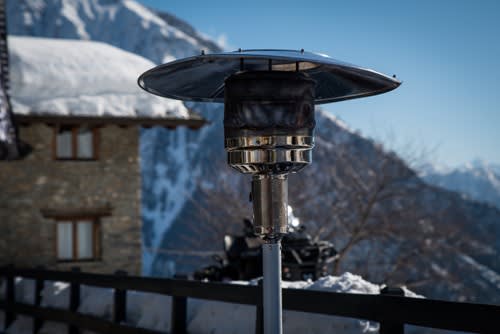 Image by Alessandro Lonati from Shutterstock

The benefits of having an outdoor heater cannot be over-emphasized as it significantly impacts the amount of time you spend enjoying your outdoor space during colder weather. There are critical factors to consider when choosing the right outdoor heater.
The Location of The Outdoor Heater
To determine which type of outdoor heating you need, first, decide where you plan to use the heater. Will it be stationary or moved around your property? With this information in hand, you can choose the outdoor heating that best suits your expectations and your criteria.

For example, if you want an outdoor heater installed on the terrace of your garden, patio, gazebo, or other fixed places and don't plan to move it often, consider opting for an inline gas patio heater. If you like the flames of a gas unit but need it to be portable, opt for a freestanding LP unit. These are heavier and more stable.

If you are looking for a light, space-saving, easily transportable and CO2-free outdoor heating system, then choosing an electric patio heater, an electric heating parasol or a fire pit is best.
The Power of Outdoor Heating
It is crucial to consider the power source of the outdoor heater and its manufacturing material. Be aware that outdoor gas heaters generally produce more heat than electric heaters but are slower in rising in temperature. On the other hand, electric outdoor heaters heat up nearly instantly. For materials, choose stainless steel if you live near the sea or in the mountains to protect against corrosion. Also, note that vertical heat tends to provide more comfort than horizontal units.
Radiation of Outdoor Heating
Different outdoor heaters have a specific range or heating area for which they. Let the surface or area you want to heat influence the choice of your outdoor heating: small garden furniture, dining terrace, large garden furniture, and so forth. For example, an outdoor gas heater is more suitable if the area to be heated is large. Guarantee your outdoor enjoyment by having a professional review your needs to see if a permanent installation (gas or electric) or a mobile option will better meet your needs.

Always remember to protect your outdoor heater from moisture, dust, rain, or ice. Visit your local patio or outdoor living specialty store to explore your options. If outdoor living is important to you, make sure to let your agent know so that homes with exterior entertainment space take priority in your viewing schedule.